TENSAWっ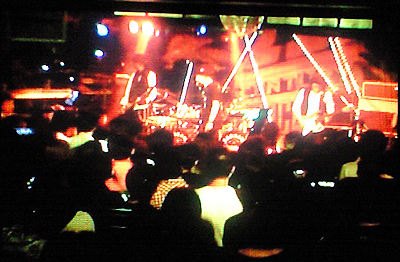 伝説のバンド、
TENSAW
の復活ライブを見に行ってきまシタ〜
セイボーさん
、
GRICOさん
、
タケさん
、
篠原さん
、そして我らがボス、
ミチアキさん
、、全員ちょ〜かっこ良くってちょいワルおやじ全開で、素晴らしい夜でござんした〜
Ra:INのときのミチアキさんは、同じメンバーで、同じものを見てやってるし、やんちゃで可愛い愛溢れる不良おやじなんですが、、TENSAWのときのミチアキさんは、、俺らが憧れてた、、大人のカッコいいミチアキさんになっていて、、、そうすると、オイラも二十歳過ぎの若造の眼差しに戻ってしまうのデス
清志郎さん
とも親交の深いGRICOさんの打ち上げでのMCや、
『DayDream Believer』
をTENSAWがカバーして演ったときなどは、、目頭が熱くなったざんす…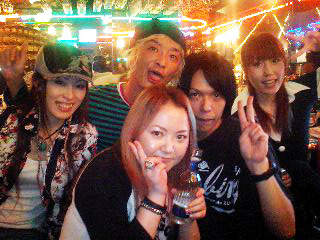 一緒に行ったお友達などなど(
梓ちゃん
、オイラ、
たまごちゃん
、
律ちゃん
、
AYAちゃん
)。。。他にも会場のいたる所、、知り合いだらけで、、お酒もすすむ、すすむ
そう、、そんな我らもそろそろ徐々に、、
Ra:IN
のツアーに向けてシフトチェンジしていかないとね、、、
Ra:INのヨーロッパツアーのスケジュール
も決定シマシタ〜
Ra:IN Europe tour schedule~
6/18 (Thu) ローマ・イタリア
Rome , Italy
Alpheus milticlub
www.alpheus.it
/mainwebsite_html
6/20 (Sat) ブダペスト・ハンガリー
Budapest, Hungary
Blue Hell
www.yuk.hu

6/21 (Sun) ワルシャワ・ポーランド
Warszawa, Poland
Hydrozagadka klub
www.hydrozagadka.waw.pl
/all.html
6/22 (Mon) ワルシャワ ・ポーランド
Warszawa, Poland
Signing Session


6/24 (Wed) グディニャ・ポーランド
Gdynia, Poland
signing session


6/25 (Thu) グディニャ・ポーランド
Gdynia, Poland
Klub Ucho
www.ucho.com.pl

6/26 (Fri) ベルリン・ドイツ
Berlin, Germany
Magnet Club
www.magnet-club.de
6/27 (Sat) ケルン・ドイツ
Köln, Germany
Die Werkstatt
www.werkstatt-koeln.de
6/28 (Sun) モスクワ・ロシア
Moscow, Russia
B2-Club
www.b2club.ru

7/04 (Sat) マドリード・スペイン
Madrid, Spain
Wurlitzer Ballroom
www.wurlitzerballroom.com
I went to see the revival live of TENSAW that called "the band of legend".
Saybow(Vo.), Grico(Dr.), Take(G), Mr.Shinohara(Key), and our boss, michiaki(B) , everyone's fuckin' cool !
It was a fantastic night with matured musicians.

I shed tears with Grico's talking on after party about his friend , Kiyoshiro, and his song cover-played by TENSAW.