師匠と。。。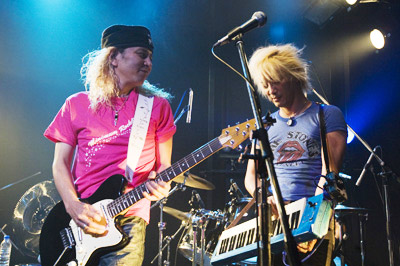 若かりし頃の心の師匠、、
DER ZIBET
の
吉田光
さんと。。
たぶん、、15〜6年ぶりに同じステージに立った。。
w/Hikaru Yoshida
(DER ZIBET)
who was the teacher of my soul of my younger days...
I could stand on the same stage after an interval of 15-6 years.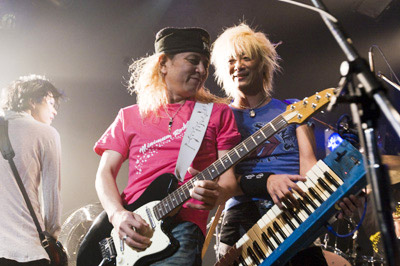 思えば20年前、、24〜5歳の頃
DER ZIBET
のサポートをやってたおかげで、
Zi:KILL
のお仕事をいただいたわけで、、
DER ZIBET
のサポートをやってたおかげで、、
岡野ハジメ
さんたちと幻のバンド、
「FLESH」
からお誘いがきたわけで、、
その二つのステージを伝え聞いたり、見たりした
hideちゃん
から、
hide soloのバンドメンバー
のお話をもらったわけで、、、オーディションを一回も受かったコトのない俺は、ほんっと人と人の繋がりのおかげで今があるのです。
I had work of Zi:KILL because I supported DER ZIBET at the time of 24-5 years old 20 years ago.

Inviting it came from the band "FLESH" of the illusion with Hajime Okano because I supported DER ZIBET.

And because hide heard and watched these two band's stages , I got a work of the band member of hide's solo.

I have never passed an audition.
It is really grace of the connections with a person and the person that there is current oneself.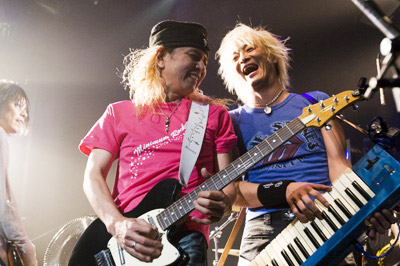 モヒカンをやったのも、
光さん
が、サポートの俺にもヴィジュアルのインパクトを、、と
亀山さん
を紹介してくれたのがきっかけ。。
他にも、、お前はこの世界では食えない、と言われ続けたオイラの20代、、
光さん
に公私ともども、どれだけお世話になったことか。。食えない時代も弟のように可愛がってくれマシタ〜
If the impact of the visual was necessary for me, Hikaru introduced Kameyama.
And this was an opportunity that I did "MOHICAN" hairstyle.

Optionally, is it, to have been taken care of how long with the official and private matters for my 20's that it continued being said not to be able to eat in this world.
He loved me like a younger brother in that time.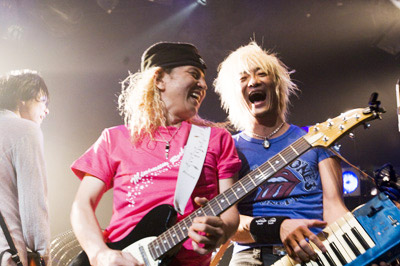 その後、お互い別の道を歩み始めて疎遠になり、、
DER ZIBET再結成
をきっかけにまたオヤジ同士の交流をさせてもらってマス。。あ〜、、ここまで書くだけで涙出そう。。
人生に恩師がいるとしたら、、たとえ一時期少しの溝があったり、疎遠になったとしても、また笑って出会える日が来るものデス。

We began to walk a way according to each other and became estranged afterwards.

But triggered by DER ZIBET re-organization, we interchange each other again.

If a teacher is in the life, even if you became estraged or there were few ditches , a day to be able to meet again laughingly comes .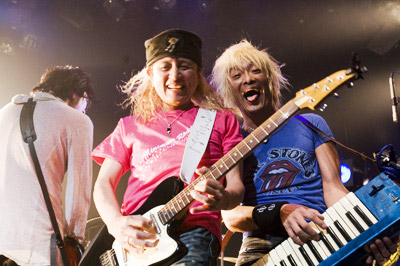 いろんなコトで仲違いになったり、疎遠になった人とも、全て俺の人生で出会えた人たち。。
また笑って出会えるといいなぁ〜
The person who quarrelled in various things or became estranged, I wants to meet again because they are the people who I was able to meet entirely in my life.
(英訳:
Mi-
さん、、ホントさんきゅ〜です
)
P.S.ライブ2日前に書くブログじゃないね〜
(Photo by
最近のブログ
が面白い
K.Oshima
)